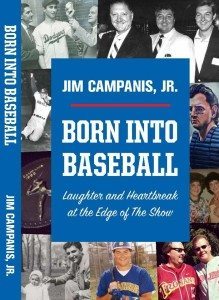 The hobby knows Jim Campanis Jr. is one of baseball's best through-the-mail signers. 
He's one of baseball's greatest living storytellers, too. Scan the blog archives and you'll find proof.
Let me be one of the first to cheer his recent Facebook announcement:
Those stories will be a new summer title from Summer Game Books.
Joe Garagiola. Bob Uecker. Now Jim Campanis. Meet another catcher who can spin classic diamond yarns.
If you've ever gotten an autograph from Jim, be sure to make room on your shelves for this new book. Who knows? He might have an autograph anecdote or two tucked in the pages.