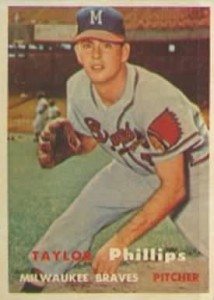 Does he look like a
'T-Bone' to you?
Lefty Taylor Phillips offered me a quick reply to questions. He ended his letter, "Thanks for thinking of me. God bless." He even added a favorite Bible verse (Romans 12:13).
What surprised me most is that he used the F-word.
FUN
I keep asking players about career highlights. Retired players are used to "my biggest thrill" questions. I want to hear about the most fun they had that year. I haven't had any takers on the question until Mr. Phillips.
Some biographers love the snarky comment about this pitcher's lifetime batting average being only .053, just six-for-113 in six total seasons. I pointed out that his were six hits more than I ever had in the majors! I asked which singles were most memorable:
"All of them!"
And fun?
"The most fun one: I drag-bunted and the ball went to center field."
Of course, I won't pass up a chance to hear about someone's best day ever (fun optional). For Phillips, I was sure that day would have been Aug. 9, 1956. He was pitching before a home crowd in Milwaukee's County Stadium. At game's end, he owned a three-hitter against the St. Louis Cardinals. What were the high points for the young left-hander? Phillips answered:
"First Major League start. Complete game. The three hits I gave up, Don Blasingame, Wally Moon, Stan Musial, all left-handed hitters."
(Thanks to http://www.retrosheet.org/ for preserving these moments of baseball history.)
Tomorrow: New York Met Bud Harrelson tells how Casey Stengel made a difference in his career.