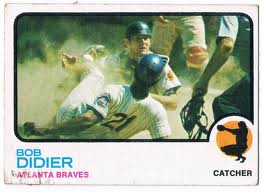 Didier: "He was out."
As a Little Leaguer, I couldn't have caught a knuckleball with a butterfly net.
That's why I marvel at Bob Didier. He was named to the Topps All-Rookie team in 1969. That year, the Braves catcher broke in catcher two future Hall of Famers, knuckleballers Phil Niekro and Hoyt Wilhelm.
I wrote, asking Didier to describe those fluttering deliveries. He responded with a gem of a letter:
"Niekro was the starter and he threw his knuckelballs harder and it broker sharper. Wilhelm threw his knuckleball softer but would have 2 or 3 different breaks at different times.

I waited until the ball stopped roll and I picked them up."
Didier's 1973 Topps card is classic. The action shot is supreme. The 1972 Mets roster says #21 was Cleon Jones. Any details about the card?
"He was out."
I asked about Didier's father, super scout Mel Didier.
"He signed Ralph Garr, Cecil Upshaw, George Stone, Andre Dawson and Gary Carter, among others.

He taught me to respect the game.

My dad has (written) a book about his life in baseball, Podnuh, Let Me Tell You A Story — A Baseball Life."
Didier shared a few tales with a Cape Cod League reporter in 2008. Read (and listen) here!