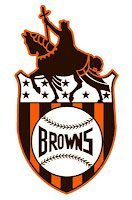 Goodbye to Bud Thomas, a one-month player for the 1951 St. Louis Browns.
Thomas, who died at age 86, was overlooked by collectors searching for players who appeared in major card sets or played on winning teams.
Sad. I missed him, too. The intrepid www.sportscollectors.net says that Thomas responded to 14 of 15 requests over the years, adding cards and photos as bonuses, along with answered questions and notes.
Our pal Nick Diunte gave Thomas a superb send-off with this feature…
There are good signers still out there, storytellers waiting for your letter. Don't make them wait forever.