Look at the early Christmas present my e-mail contained!
Dear Havana Curveball friends and supporters,
As 2014 draws to a close we are amazed at the synchronicity of the release of Havana Curveball. Little did Ken know, when he got on a plane for our Latin American premiere at the Havana Film Festival that he'd witness the historic opening between the U.S. and Cuba. And to top it off, he was scheduled to share our film the very night of Obama and Castro's announcement with a group of Cuba artists, filmmakers, academics and others. The response was overwhelming. Here's ABC news' interview with Ken the morning after his return: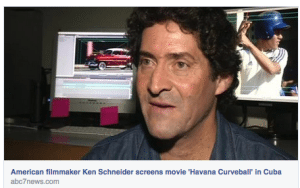 When

the end credits rolled, there was great emotion and some tears in the room. He heard loud and clear that our little story of an American teen, dreaming of sharing the game he loves (baseball, of course) with Cuban teens, and the drama of his squaring this dream with the messy political reality created by grown ups, had great resonance. The kudos to the film gave great satisfaction, but even more, the invitation to return to screen the film to audiences throughout the island, in towns and cities, to groups of artists and students and families confirmed what we believe deeply, that art heals, that stories speak universally, that open communication speaks volumes."
The note is signed by the creative duo behind the documentary, Ken Schneider and Marcia Jarmel.
Let me try again to say what I felt when I first discovered and wrote about this uplifting documentary:
This is bigger than politics. This is baseball!
Baseball is a universal language, one that can be shared with any age in any country. Baseball builds bridges.
Whether you're writing for autographs, or want to contact someone for a story from baseball's past, realize the power of the subject. Baseball connects us. In every letter, I want the recipient to know one thing:
Also, I believe in Havana Curveball. The documentary is showing throughout America. Find a screening here.
Thank you for another great year in blogdom. See you in January!