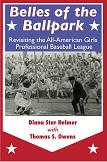 It's time to tell the rest of the story.
I was thrilled to come along for the ride when my wife Diana Star Helmer readied a new edition of Belles of the Ballpark (Summer Game Books) for 2016 publication.
I was racing against time, trying to get surviving players to reply by mail. Diana believed untold stories remained in league history.
One overlooked detail by AAGPBL historians is the fascinating range of jobs these players found after baseball. Pitcher Erma Bergmann (who passed away in 2015) served decades on the St. Louis police force.
I congratulated her on her public service as a police officer. That might be why she concluded her letter this way:
"I never hit a prisoner during my career and I never stole from any drunks.

Love,

Erma"
Asking is free. You never know what details you'll unearth!