I could tell you.
Or, let me SHOW you.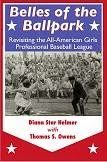 I rode shotgun as my wife Diana Star Helmer put the finishing touches on a new edition of Belles of the Ballpark. If you liked the movie A League of Their Own, you'll love the true story.
The AAGPBL player roster shrank each week as we worked. Nevertheless, there's new correspondence with more than a dozen players. Many new chapters await!
We've submitted 70 possible photos to our editor, TRIPLE the amount of the first edition.
Lessons learned from a summer of girls league letters?
1. The league ended 60 years ago. Alums are age 80 and above. Health problems (or non-stop travelers) mean some responses won't be fast.
2. Penmanship should be renamed penWOMANship. Many of these women became teachers. Their sparkling handwriting — sometimes, like calligraphy — astounds me.
3. These women still love the game. Answers to our letters proved it. One former player wrote a great explanation of why batting averages were lower than major league stats. To make sure I agreed, she added a last-minute detail. She TAPED her baseball card on the back of the envelope, back side up.
No ego. She didn't care about her picture. She just wanted me to see how her stats changed from season to season (just like the letter explained).
Summer Game Books
looks like they'll be a rising star in the world of baseball books for many seasons to come. We're happy to play for their team. The book arrives in spring, 2015.
It's good to be back!