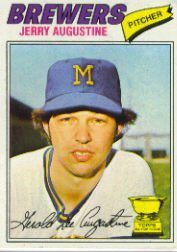 Is the ex-hurler's sig still
so swell? I hope to find out!
In this installment of "Tom's 10 Most Wanted," I thought of those near-miss Milwaukee Brewers of 2011.
Do they answer fan mail? I'm not hopeful…I struck out trying to get their bullpen catcher!
Instead, I decided to revisit the past. I thought of another mystical Milwaukee team: The Blue Crew of '82.
Here's the "10 From Then" getting letters from me:
Jerry Augustine
Dwight Bernard
Jamie Easterly
Pete Ladd
Don Money
Rob Picciolo
Chuck Porter
Ed Romero
Harry Warner
Ned Yost
Stay tuned…
Coming Thursday: Seeking other ways to correspond with baseball's past.