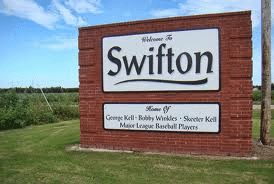 Bobby Winkles is still proud of the
company he keeps!
(Photo courtesy of Guy Lancaster and
the Encyclopedia of Arkansas website.)
It's nice to get a second chance.
I wrote about Bobby Winkles twice in this blog. He sent me an epic letter, describing what it was like to coach Reggie Jackson in college. Later, he recounted the work ethic and sincere charm of pitcher Nolan Ryan while skippering the California Angels.
I asked about everyone but Winkles. He mentioned growing up near Swifton.
Swifton is the hometown of Hall of Famer George Kell and his brother Everett "Skeeter" Kell.
Both Kells made an impact in Winkles' rise to success. He remembered…
"I was born in Tuckerman, Ark. Moved to Swifton when I was 9 years old.

Skeeter Kell was one year ahead of me at Swifton High School. We didn't have baseball. Small school, 19 in my graduation class. Skeeter and I played on the Town team. We played each Sunday when our cotton was plowed for the last time. We played Thursday and Sunday.

Skeeter and I were like brothers.

George Kell was my idol. he was my teacher in the 7th grade. There's a 10 by 15-foot sign on the highway honoring the three of us. The only city in Arkansas to have three major league participants at the major league level.

Swifton had a population of 520. We also have a three-star general, Billy Paul Bowden.

I lived 3-1/2 miles from Swifton on a cotton farm. We lived in a 2-story house. The upstairs windows were boarded up and we had no electricity or plumbing."

Winkles will be 82 on March 11. I've always thought his humble roots would make a good book. He agrees.
"I have a book coming out around the first of the year. Those who have read the manuscript says it's good reading. Tell your friends. Ha ha."

Coming Monday: a holiday warning for autograph collectors.