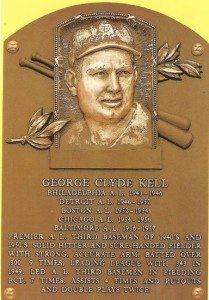 Class of 1983!
George Kell was a superstar among autograph signers. This week, the U.S. Congress agreed.
On Thursday, Kell (who died in March, 2009) received an honor collectors can appreciate. The Post Office is now officially, legally named the George Kell Building.
I spoke with John Putt, Swifton's Postmaster.
"Mister Kell was a very humble man, just another man in town," Putt remembered. "He never wanted any special attention."
Putt recalled that the Hall of Famer averaged 10 to 15 pieces of fan mail daily, sometimes more. "He'd pick up his mail every morning. He'd return by noon to mail everything back." In other words, collectors always got same-day service from Kell and his post office.
Putt says that his post office did more than hold a ceremony to honor Kell. To commemorate the day, Swifton has offered a special cancellation showing a baseball and 10 stars (noting Kell's 10 All-Star team appearances). To get the special cancellation, send to:
Post Office Dedication Cancellation
Attention: Postmaster
Swifton, AR 72471
The post office can offer the special cancellation for only 30 days, meaning all requests must be received by Friday, October 1.
I'd suggest sending Kell's HOF postcard or a Tiger Stadium/Comerica Park postcard in a larger envelope with appropriate postage and a removable address label. Or, use a plain envelope. (More room for signatures!) Then, you'd have something that would be great to get autographed by "Skeeter" Kell, George's younger brother. See my June 28 blog post, "Everett 'Skeeter' Kell Remembers George, One Hall of Fame Brother."
In fact, you could get your Kell-cancelled collectible autographed by any diamond contemporary of his.
It's too late to get George's autograph. However, it's never too late to remember that there's still great signers out there. They do more than please hobbyists. Those autographers keep a grateful USPS in business!
What breed of humble hero was George Kell? Check out his 1983 Cooperstown induction speech here to find out.
Tomorrow: I share my 1997 correspondence with George Kell!