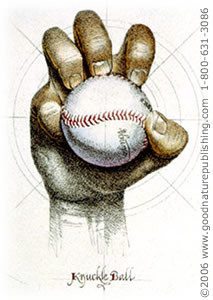 Art by Dugald Stermer,
courtesy Good Nature Publishing
Pitcher Garland Shifflett is a league leader in my eyes. He didn't have the longest career. Nor, did he send the longest letters. He did make every word count, showing his care in corresponding with a fan.
Shifflett tasted a bit of success in his "cup of coffee." He earned his only career save on June 11, 1964, stopping the Tigers. (Thanks, http://www.retrosheet.org/!)
First, I wanted to decode his nickname. Shades of "Ducky" Medwick!
"'Duck' came from my high school years! I am bow-legged. The name stuck through my career and I had no problem with it."

Tucked between his 1957 Senators debut and his 1964 stint with the Twins was a busload of minor league action. Why did he log all those seasons for a second chance at the majors?
"What gave me the drive to keep going was the 1st and the 15th (paydays). HA! Honestly, I just purely loved the game."

Part of Shifflett's return hinged on the inclusion of a new pitch. He became a knuckleballer in 1963.
"I created the pitch myself. Good catchers [Garland's underlined emphasis] really don't care what you throw as long as you strike the batter out."

I closed my letter with:
"Thank you for your time. My 'career' ended in Little League. However, I can close my eyes and I'm back on the field again — like it was yesterday."
Shifflett replied:
"Thanks for your questions. I also close my eyes and I'm on the mound again!"
I'm grateful to publisher Tim Colman, the force behind Good Nature Publishing. His company offers a great print of "The Slider," showing the proper grip. These would look great autographed by your favorite pitcher. (This is not a paid affiliate link. I'm just delighted with this art, knowing that other fans and collectors will love it, too!)