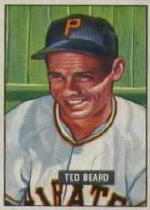 Ted Beard is a real player and real hero.
Beard delayed his career serving as an Army medic in World War II. He faced a four-year exile in the minors before earning a comeback with the Chicago White Sox. He owns more than a dozen years of AAA experience. Others may have bigger numbers in the bigs. However, no one should doubt Beard's determination or love for the game.
We may never know Beard's whole story. My letter was returned with a note:
"Ted is 89 and does not remember specifics of his playing career. We are sorry that we can't fill your request.


Laura Beard
(wife)"
Beard is still signing autographs. On http://www.sportscollectors.net/, I see he's 51-for-51. Even if he doesn't remember his stats, Beard hasn't forgotten why people collect.
Look at Beard's career highlights on the ever-amazing http://www.retrosheet.org/. Beard debuted in a 1948 doubleheader, posting a triple in both games! Yes, Mrs. Beard, there are many specifics fans will remember about your husband. You're both winners on my scorecard.