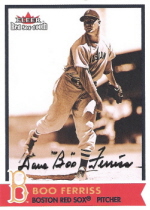 If there was an autograph Hall of Fame, Dave "Boo" Ferriss would be enshrined.
When he died on Thanksgiving at age 94, collectors lost a friend. The former Red Sox pitcher signed 227 out of 228 recorded requests, says www.sportscollectors.net. I'm astounded at how many hobbyists received notes, photos or other bonuses with their requests.
"Boo" shared this with me in 2010. Enjoy!