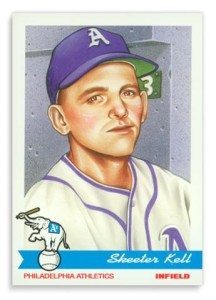 Everett "Skeeter" Kell might have been a Tiger.
The infielder with the 1952 Athletics explained in a moving letter why he wound up in Philadelphia, not Detroit — beside future Hall of Fame brother George.
"Skeeter" replied:
"We were very close. I spent six weeks living with him when I was 18 in Detroit. I worked out with the Tigers each day they were home. Mister (Connie) Mack of the A's saw me practice and signed me."
Kell reflected on his short career:
"I enjoyed most of my baseball and made lots of good friends, especially in Philadelphia, and to their homecomings as I was older.

I was not too great on being gone from my wife (now 62 years of marriage)and two sons so much.

This is why I retired, when I was sold to Havana, Cuba and could not take them with me."
Thanks to artist Ronnie Joyner for sharing his swell creation. More info about Joyner's artistry and the homecomings Kell mentioned can be found at the Philadelphia Athletics Historical Society website.