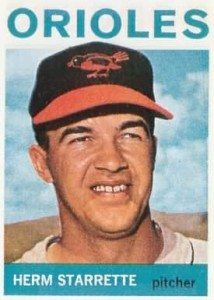 Thank you, Herm Starrette.
I love the movie Bull Durham (20th Anniversary Edition)

. I love the interaction on the mound, those conferences and pep talks.
I had to ask a real coach what a real mound meeting is like. What might be the funniest thing ever said — even if you don't laugh until returning to the bench.
Starrette proved the movie might be more real than we imagined, replying:
"Little Latin kid. Bases load, no outs. can't tell you his name. He said to me, 'No problem.' I said, 'Yes, there IS a problem.'"
Starrette received World Series rings as Baltimore's minor league pitching coordinator in 1970, and as Philadelphia's pitching coach in 1980.
Now, he's facing the ultimate challenge:
"I appreciate your letter. May God bless you and your family. I've had a hard time with prostate cancer. It's a long haul taking radiation. Thanks. Your friend, Herm Starrette."
Write to Herm. Remember him. He concluded with:
"Don't have time to write you the whole story, but a beautiful career and quite educational. Learn a lot from different people."