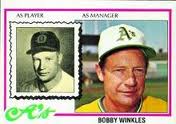 This Topps Card Only
Hints at Winkles'
Storybook Life!
California manager Bobby Winkles arrived to witness Nolan Ryan's skyrocketing success. What kind of personality did the fastballer sport in 1973?
Winkles replied:
"Nolan Ryan was the hardest working pitcher I ever saw in the major leagues. He was a gentlemen and modest. Nothing cocky about his demeanor."
Winkles' resume includes a managerial stint with Oakland, along with longer coaching assignments with the Giants, White Sox and Expos. Surprisingly, he filled in some of those earliest details, long before he was the toast of college coaching ranks.
"I was raised on an 80-acre farm. Biggest crop was cotton. We lived 3-1/2 miles from Swifton, Arkansas, population 526. We didn't have electricity or plumbing — only pump water — 10 people in a three bedroom house.

I went to Illinois Wesleyan University. Graduated in 1952. Two years in the Army. Signed with the White Sox. Retired from 7 years in minors.

While playing went to Univ. of Colo. Got a master's degree in two semesters.

Not a bad career for an Arkansas cotton farm boy.

Regards,
Bob Winkles"
Winkles' story challenged me. That name…
Swifton? Swifton, Arkansas? THAT Swifton, Arkansas!
Hometown of Hall of Famer George Kell. The Post Office is named after him. Seems like Swifton produced more than cotton.
Tomorrow: Retracing Kirby Puckett's beginnings through autographs.