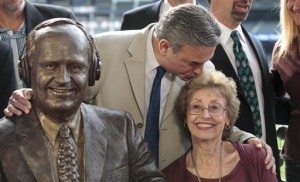 This striking Associated Press photo by Elaine Thompson
shows long-time broadcast partner Rick Rizzs congratulating
Marilyn Niehaus at the 2011 Safeco Field unveiling of the
statue of late husband Dave Niehaus. I like the picture for
what it DOES NOT show. The beard and patterned tie
in the photo's upper right belong to sculptor Lou Cella.
The artist is a humble hero!
This Week in Baseball introduced me to sculptor Lou Cella.
Getting Cella and artistic co-creator Oscar Leon on camera was no easy feat. Seeing them both present for the Cellular Field installation of the Frank Thomas sculpture was a treat. Seeing the gratitude and admiration of "Big Hurt" made the feature even more meaningful.
The TWIB segment showed only a glimpse of Cella's back. His White Sox jersey read Sculptor 35. Cella explained:
"The '35 Sculptor' jersey. Originally, the thought was that my sculpting partner Oscar Leon and I would both wear one of those to the unveiling of the Frank Thomas sculpture. I bought a game-used jersey at Sox Fest and had the lettering added later. But the idea lost steam when Oscar never had one made.


I felt like it would have been too self-serving and detract from both Frank Thomas and Oscar if I wore it by myself to the unveiling. So I wore it for the installation instead, and This Week in Baseball showed me in it. I was considering having a cubs version made for the Ron Santo piece, but I already have about 10 Cubs jerseys as it is. Maybe down the road."
During the dedication of the Ron Santo statue, it seemed the Santo family posed for a picture holding a mini version of the statue. That made me wonder if Cella knows of collectible-sized baseball figurines.
Does he ever!
"I love both the Hartlands and the MacFarlane pieces. In my world, I make collectibles so much, that buying them is just not logistically feasible. In other words, I have no room. But I do admire them, and am always tempted to purchase them."
Collectors may own a Cella creation without knowing. He adds…
"I have done numerous miniatures for Romito Inc. I do not know exactly how many off hand, but there are about a dozen large ones which have my name on them. You will see others on the site which I did not sign on, but likely helped a little or a lot with.


The full body of my monument level work is visible at http://www.rotblattamrany.com/."

Here's an impressive New York Times roundup feature, surveying the variety of baseball statues outside ballparks. Of course, Cella's included in this all-star lineup.
Coming for Thanksgiving: Thankful Bobby Winkles remembers his Arkansas childhood, complete with memories of George and Skeeter Kell.