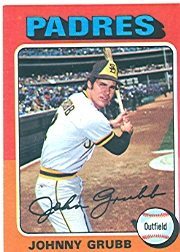 Expect the same tight,
neat handwriting today!
Outfielder and designated hitter Johnny Grubb enjoyed a 16-year career in the majors.
Was it his hitting or fielding that gave him enduring value to teams?
Or, was it his humility and gratitude?
His letter proves that he appreciated every opportunity. Likewise, I think that attitude guaranteed that he made the most of every opportunity. Grubb began:
"Tom,

Thanks for your nice letter and love for the great game of baseball.

It was a wonderful experience to be part of the 1974 National League All-Star team…what a great group of people and players."
Grubb flirted with history in 1979, posting a 21-game hitting streak. I asked for the most joyful, or dramatic, moments of the streak. He replied:
"I was aware of my batting streak, but winning games was top priority. My teammate, Jim Sundberg, had a 22-game streak that at one time was the Rangers record."
Lastly, I had to ask about being part of the 1984 Detroit Tigers World Championship. What did Grubb learn from leader Sparky Anderson?
"Sparky Anderson was a very special person. he was a great motivator and knew the game as well as anyone. He was a great person to learn from, whether it was baseball or life in general. I was fortunate to have Sparky as a manager."
I loved this Grubb profile. I hope you do, too. Another hit feature from Todd Newville of http://www.baseballtoddsdugout.com/.
Coming Tuesday: Kansas City Royals collector Dave O'Brien tells why personal letters matter.