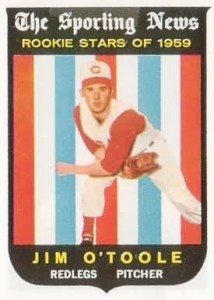 Sad Topps didn't include
facsimile autographs for
"rookie" cards in 1959.
O'Toole has a Willie
Stargell-ish quality to his…
I needed just a week for my pitch to pitcher Jim O'Toole to find its mark.
O'Toole debuted with Cincinnati in 1958, in plenty of time to experience the wonder of broadcaster Waite Hoyt. A Yankee Hall of Fame pitcher, Hoyt is treasured by just as many fans who knew him only as a classic storyteller. One fan told me he loved rain delays during Reds radio broadcasts, because Hoyt would share tales about his time with Babe Ruth and other legendary teammates.
What did O'Toole and Hoyt chat about? Pitching?
"My wife asked Waite to tell my five sons what was his best pitch. He said: 'What are you doing tonight, honey!'"
Crosley Field was O'Toole's "office." I asked him what he remembered about the ballpark:
"You had to go through stands to get to the clubhouse. The terrace in outfield was unique."
Lastly, I wanted a comparison of 1961 and 1963. The latter season marked O'Toole's All-Star year, although his stats shined more in 1961. Likewise, he pitched his Reds to the World Series that season.
"61 — Was unique. Played where Babe Ruth played. 63 — started All-Star game ahead of Koufax."
Other collectors have found that O'Toole has signed one autograph free. It may be best to check with him regarding his current policy. He closed his letter with:
"Jim O'Toole, Red's Hall of Fame
$5 fee"
Write O'Toole at:
1010 Lanette Drive, Cincinnati, OH 45230
Tomorrow: Pitcher Howie Koplitz, a man of "delight."