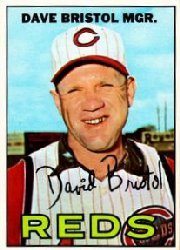 Manager Dave Bristol wants to set the record straight.
I quoted Baseball Reference's bio to him:
He saw the writing on the wall as a player before the 1962 season with the Macon Peaches, when a young hotshot named Pete Rose beat him for the second baseman's job.
Bristol's reply?
"I was the manager in Macon. I didn't compete with Rose. He needed to play and he surely did.

We had so many good players in Cincy in the 1960s. His move to the outfield fit into the scheme of things, much as it did when Sparky moved him to third base."

Bristol's first job in Cincinnati cemented his love for the local ballpark:
"I had seen Crosley Field in 1951 when I was there to work out prior to signing with Reds. In 1966, we were rained out opening day, so my first big league coaching third base took place in Philly when we opened the season there. Crosley was my all-time favorite park. Loved it. No park like it today — bank in outfield, 387 in center with high wall."
Lastly, I gave Bristol the chance to confess his sins. The stunning http://www.retrosheet.org/ documented 23 ejections (four as coach, 19 as manager). Were they mostly balls-and-strikes disputes? Was there one time he could laugh about today? His defiant answer surprised me!
"I should have done more, but it doesn't help your team when the manager is in the clubhouse."
Watch out, retired umpires. Bristol hasn't skippered a team since 1980. However, I'm betting he's kept a list of the men in blue who wronged his clubs.
I enjoyed writing to Dave Bristol. Sparky Anderson may have operated the Big Red Machine, but I let Bristol know he should be credited for assembling some of the lineup gears that powered the team.