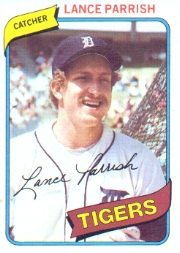 The Parrish autograph
is bigger, better!
Catcher Lance "Big Wheel" Parrish was knighted.
In baseball history, players have gotten nicknames. Or, they've been saddled with nicknames.
Not Parrish. He was chosen. His name was bestowed by baseball royalty.
Nevertheless, I wanted both a definition and origin of his nickname. You see, my father was a factory worker for more than two decades. More than once, he came home and used the adjective "Big Wheel" when describing a pompous superior or adversary from the office side of the business. Usually, "Big Wheel" was a tepid substitute for a bluer, more unflattering phrase he wanted to apply in the direction of the offending person.
Therefore, knowing that Parrish was known as "Big Wheel," I wanted to make sure his nickname was positive. Here's the eight-time All-Star's name story, straight from a most surprising hand-printed reply:
"The nickname 'Big Wheel' came about in the early '80s. I was told our announcers did refer to me as 'Big Wheel' on occasion. I was dubbed 'Big Wheel' by the legendary Mel Allen on a This Week in Baseball segment that featured the Tigers.

Our team happened to be watching it in the clubhouse and the name stuck. He opened the segment by claiming that the wheels of the Motor City were turning and I guess I was hot at the time, so he referred to me as the Big Wheel."
If you can dodge the website's talking Mike Golic Tabasco banner ad, check out Parrish's tribute to Sparky Anderson in The Sporting News.
Tomorrow: Former third baseman Parrish talks about his switch to catching, crediting the two men who helped him make the Gold Glove transition.