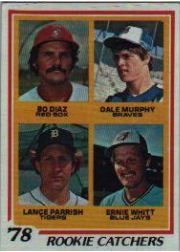 Imagine the card without
the well-known Tiger!
a catcher?
Once, the Detroit Tigers believed Lance Parrish belonged at the hot corner.
The conversion wasn't a huge shock, Parrish told in an insightful letter.
"The transition to catcher was not a big deal to me after rookie ball, as I had caught quite a bit since Little League. I was used to playing a lot of different positions, so to make the switch was OK with me. Les Moss, who was my double A and triple A manager in the minors, as well as instructional ball, probably played the biggest role in my development as a catcher. Bill Freehan also helped me out quite a bit."
Parrish's transformation wasn't immediate. He led the league in passed balls in 1979. However, by 1983, he began a three-year reign as the junior circuit's Gold Glove receiver.
He explained:
"I worked very hard at becoming the best catcher I could be. Although passed balls were my nemesis throughout my career, I worked very hard to refine my game. I will say that I thought a lot of the passed balls I was charged with were unjustified in my opinion. It seemed as if when a ball deflected off my glove no matter how far I had to reach for it, I was charged with a passed ball. (But that is my opinion.)


Nevertheless, I was still proud of my career fielding average and my ability to throw out would-be base stealers. Also felt like I worked well with the pitchers I handled.


Hope that works for you.


Best wishes,
Lance Parrish"
Tomorrow: enjoy a letter from catcher Bob Didier, who reveals how he handled two superstar knuckleballers in his rookie season.