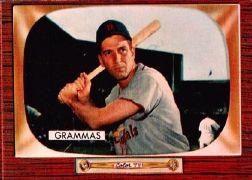 I was never a fan of fractions, except for common denominators.
Manager Sparky Anderson's Hall of Fame formula included common denominator coach Alex Grammas. In Cincinnati and Detroit, Grammas was at Anderson's side.
I looked beyond Grammas's coaching, discovering that he had more than a few good days at bat. Here were my three questions:
1. Whether winning the World Series in Cincinnati or Detroit, Sparky Anderson had you on his team. Besides hiring good coaches, what was in his personality and attitude that made him a Hall of Fame manager?
2. You seemed like a bench coach in Cincinnati and Detroit, but never had that title. How do you feel about the position being "official?"

3. Six four-hit games. A four RBI game versus the Cubs. Twelve career home runs. You were more than just a slick fielder. What moment at bat do you enjoy remembering most?
In just under three months, this was his response:

"Tom,

I've always enjoyed every team I was on. The secret is giving it 100 percent every day.

The best to your and your family.

Alex Grammas"
I like asking questions. I like giving former players a chance to get the last word on their careers, describing their diamond days in any way they choose. Although Grammas seemed lean on details, his grateful perspective on the game is an outlook I can appreciate. I'd like to be able to borrow his words someday to describe my collecting "career."