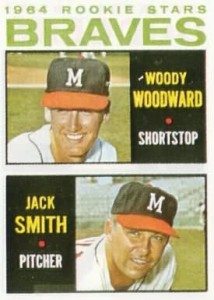 If it's not exciting enough to make the majors, pitcher Jack Smith found his 1962 Dodgers debut in the midst of baseball history.
Teammate Maury Wills was stealing his way to a one-year record 104 bases. From one of the best seats in the house, Smith saw how Wills victimized rival hurlers, writing:
"Maury Wills was a good base stealer and studied the pitchers and replays."
Smith had a great assessment of his one save in 1962. Did it compare to the thrill of a complete game?
"All saves are important, even in the old days."
Smith's Dodgers tied the Giants with an identical record to end the regular season. For the last time ever, the National League would call for a three-game tie-breaker playoff.
In the second game, Smith watched from the mound as two future Hall of Famers faced off.
He came in to relieve after the Giants scratched out two singles, the second from Willie Mays. Smith surrendered a run-scoring single to pinch-hitter Ed Bailey. When Mays tried to advance to third, umpire Jocko Conlan seemed to switch his call from safe to out. The indecision brought a rhubarb from Mays, third base coach Whitey Lockman and manager Alvin Dark. Did Conlan flip-flop, even getting it wrong?
Smith remains diplomatic about what unfolded:
"Yes, I think it was a fair call."
Smith got the last word on the Giants, despite their advancement to the '62 World Series. On June 12, 1964, the transplanted Milwaukee Brave posted three innings of hitless relief in Candlestick Park.
"It was fun to pitch in the Big Leagues. Always a pleasure."