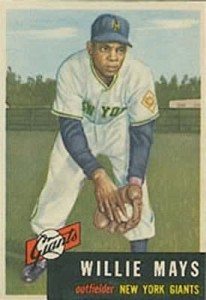 Bobby Hoeft saw Mays in a
different uniform in 1953.
This week, I'm sharing treasures from the memory vault of Bobby Hoeft, author of When Baseball Was Fun and publisher of Detroit Tigers Quarterly.
Q: In the Navy, what player impressed you most?
A: "In 1953 I was playing with the Norfolk Navy Flyers. We played against some great baseball players including Dick Groat, Johnny Antonelli and many more but the one player, who, incidentally also played center field, was the incomparable WILLIE MAYS. He was electric, amazing, and yet very humble.
We were playing them at Fort Eustis in Virginia when he made a defensive gem which was even better than his 1954 World Series catch against VIC WERTZ of the Indians at the Polo Grounds. This play was made just one year earlier on Bobby Jo Graham, our big catcher. Graham smashed a 450 foot fast ball out into the darkness beyond the left field light poles. Everything was in play out there because there were no fences.
Bobby Jo was into his home run trot while Mays was busy stationing himself in left field while the left fielder was chasing down the ball. The ball suddenly comes flying out of the darkness and Willie Mays is now catching the ball and twisting into throwing position while Graham is innocently jogging between 3rd and home plate.
From our dugout we could see what was happening and began screaming 'RUN BOBBY JO, RUN!' But to no good. Willie had unleashed a missile that never touched the ground. It was by far the greatest throw ever made in the history of baseball! AND BOBBY JO WAS OUT."
Coming Friday: Remembering Tigers announcer Ernie Harwell.