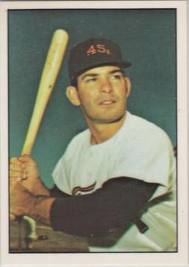 Ernie Fazio is remembered as a steady infielder of the 1960s. However, on August 18, 1963, he shared the same path of a future Hall of Famer.
"I will never forget my first major league home run off Warren Spahn. It was a great thrill and an accomplishment by another great ballplayer, Willie Mays."
(Thanks to the fine folks at http://www.retrosheet.org/, you can remember Fazio's historic dinger here!)
In a sense, Fazio began the Houston franchise. The team signed Fazio first, hours before they made a deal with Rusty Staub. I asked Fazio about a seldom-mentioned topic in the pre-Astrodome days.
"The humidity and mosquitoes in Houston in 1962 was unbearable. The mosquitoes ate you alive. what I did try was to eat a lot of peanut butter to keep the mosquitoes away. It helped a little. Johnny temple supplied the peanut butter."
Just as Curt Flood stood up for free agency, Fazio is on the front line in the battle for pension rights. He's one of the slighted major leaguers who, prior to 1980, needed four full seasons to qualify for a pension. Baseball signed a new contract granting pensions to anyone with only 43 days of service, but never provided retroactive acknowledgement of the hundreds who deserved the same benefit from seasons past.
"As for the pension plan, I still represent about 1,000 players who played in the major leagues but are not vested in the pension. We are finally making some progress. It is not about money. We are part of history."
Despite baseball's unwillingness to recognize Fazio's service, he harbors no bitterness.
"Baseball was great. I do not think I was ready for the big leagues, going straight from college and playing against the Pittsburgh Pirates in a matter of five days. I wish I was still connected to baseball in some way. The pension is a problem. But I would not change anything. I love the game and always will."
Playing in Houston and Kansas City, Fazio flew under the radar of most baseball media. I found but one account of his Houston toiling at this fun Astros history website.
For the whole picture of the pension fight Fazio and his compatriots are waging, be sure to read Douglas Gladstone's A Bitter Cup of Coffee: How MLB and the Players Association Threw 874 Retirees a Curve