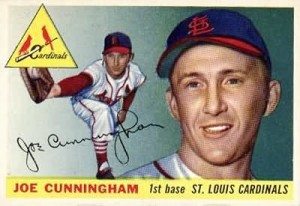 Joe C still has the same
slanting Willie Stargell-like penmanship!
Have autograph collectors ever give Joe Cunningham his due?
A tireless signer, he often would take two lines for a signature. "Joe" on top, last name on bottom. Every letter stands out in the whole name.
I'm guessing that more Midwestern Cardinals fans met Joe than any former player in the 1970s. He'd make any appearance on behalf of the team and his sales job. I considered him the team's ambassador for more than a decade.
I asked the New Jersey native about Ken Boyer. Cunningham replied:
"Ken Boyer was a good friend. I gave him the nickname 'Captain.' He ran well, especially on a triple. A country boy!"
Then, Cunningham surprised me with some philosophy, something I bet he never would have shared during his after-dinner banquet appearances.
"Baseball has changed. Curt Flood brought on free agency through the courts. The owners owned us for 100 years. Today, the players run the game."
Tomorrow: Cunningham opens up about broadcaster Harry Caray.