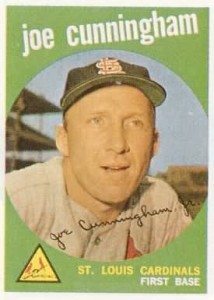 Signature off Topps contract,
an indicated by "Jr."
Joe Cunningham raised an interesting point about broadcaster Harry Caray.
I asked about the former Cardinals mikeman. I assumed Joe and all the Redbirds owned a funny story about the boisterous broadcaster.
Cunningham replied:
"Harry Caray was a good announcer. Just don't go into a slump –"
Sounding like a fellow fan remained Caray's famed style. Until Joe, I had never thought how it would have felt (or sounded) having the "fan" with the microphone disappointed in you.
Speaking of disappointments…
I risked a question asking about 1959. Cunningham received all-star honors for his career year at the plate. His .453 on-base percentage astounds me. How close was the Cardinal to a batting title at .345? He answered:
"I was batting against Aaron in 1959 and we went down to the last game. Then, he went into a playoff and got a few hits and beat me out."