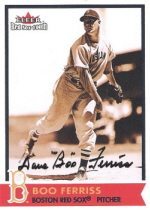 From the 2001
Anniversary Set. Ferriss
keeps amazing collectors!
Boston Red Sox pitcher Dave "Boo" Ferriss hasn't been on the mound in more than 60 years. However, he isn't done thanking collectors and fans.
Even six decades later, he still averages "5 to 7" autograph request letters weekly. I asked him about his devotion to signing.
"If fans think enough of me to sign for them, I think I am obligated to honor their requests. Baseball would be nothing without great fans filling the park."

I wrote to Ferriss to see what collectors could do for him. How could we show our gratitude?
"I'm not seeking paybacks from collectors and fans. I just enjoy knowing about their love of the game.


In the past, some collectors on their own initiative have sent me donations for the support of the Delta State University Baseball Program where I enjoyed coaching 26 years. I got great enjoyment of coaching young men in college baseball, greatly rewarding.


Any such donations should be made to the delta State University Foundation, designated for the baseball program that I am still closely associated with. Gifts should be sent to me and they are tax deductible."

No regrets. No bitterness over what might have been. This is a man filled with joy and gratitude.
"I try to give back to baseball in any way I can, for the game has been good to me and has enriched my life. The game has given me endured friendships and associations that are priceless.


The Lord has blessed me in a tremendous way.


Thanks for your very kind letter.


Best regards,
Boo Ferriss"
Ferriss remains an autograph all-star, still stunning those who write the man awaiting his 90th birthday Dec. 5.
Want to know more about this amazing alum from Fenway Park? Enjoy this fine profile by Rick Cleveland, who captured Ferriss's career and life in book form.
Write Ferriss at
510 Robinson Dr., Cleveland, MS 38732
Thank him for his service during World War II, too. This "Boo" should be celebrated all year long, not just on Halloween.