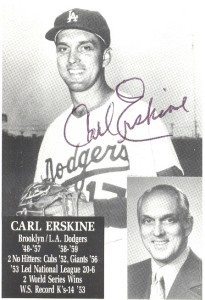 Often willing to provide answers to
anything fans ask, Erskine even
adds a signed gift to most replies!
What's right about the autograph hobby?
Yesterday, I indulged in a rubber-stamping rant. Today, equal time is required.
There are still kind, grateful men from baseball's past. They aren't all from the 1940s and '50s. I discovered a heart-warming story about Giants pitcher Phil Nastu (1978-80) going above and beyond to fulfill a TTM autograph request. I'm hoping to salute him, getting details of why he'd be so dedicated to an unknown collector.
Other names on the latest batch of envelopes launched from BBTL-land:
Bobby Doerr
Boo Ferriss
Carl Erskine
I wanted to send a standing ovation to each of these three signers, too. Each of these men have decades of autograph heroics on Mr. Nastu. Along with saying thanks, I've just wanted to ask about their fan mail volume, why they keep delighting everyone who writes, and what we can do to thank them.
I saw on http://www.sportscollectors.net/ that Bob Wiesler and Fred Caligiuri had answered questions for other collectors.
I gasped at the lengthy post-baseball musical career of Dick Adams, a member of the 1947 Philadelphia Athletics. Likewise, I'm stunned at the many charity initiatives of Brewers bullpen catcher Marcus Hanel. I wanted to find out how baseball has inspired each.
I found a recent newspaper profile of pitcher Turk Wendell. I wanted to make sure he had a copy. Also, I'm hoping he'll explain a couple of his mystical comments from that feature.
Lastly, I realized that former Angels and A's manager Bobby Winkles may have grown up in the shadow of a Hall of Famer. I'm seeking details.
There's the game plan behind my latest batch of fan mail. Stay tuned for updates. Meanwhile, I hope you find as many reasons to add names to your want list.
Thursday: Inspiration from Japan.