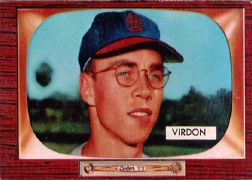 In 1955, one humble ROY
Why did I write to Bill Virdon? I wanted to see if he really won Rookie of the Year in 1955.
Of course, he did. However, he's always more eager to tell reporters about his pride in
being part of the 1960 World Championship. He wants to talk about his teams. His teammates.
Not himself.
Thankfully, the bespectacled Gold Glover fielded my three questions like an All-Star. His letter includes:
"1955 was a dream come true. The Cardinals gave me a chance and I was fortunate in many ways. I never really thought about it during the year."

Not surprisingly, Virdon sidestepped my inquiry about the actual award, on-field ceremonies or a reward in the next year's contract.
Looking closely at his season totals, I learned that Virdon's last season playing wasn't 1965. He added:
"In 1968, I was activated from the coaching staff and played in one game. Three at bats. Two strikeouts and a home run in the ninth to tie the score. It was a thrill, but we lost in the tenth."

Lastly, I've always wanted to ask a former manager: WHY? I quoted Bobby Bragan's assessment of the job, "Hired to be fired." Virdon responded:
"It was enjoyable if you won. I always thought we had a chance to get to the series.

I still enjoy the game. I was blessed to be able to stay in the game so many years."