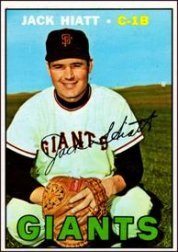 Same Autograph As 1967!
Jack Hiatt wore many caps in his baseball career:
1. Catcher-first baseman
2. Partner-in-crime
3. Director of Player Development, San Francisco Giants
Yep. Hey? What was that second one?
I asked about handling Hall of Famer Gaylord Perry's "special" pitch. Did umpires ever object?
Hiatt didn't mince words, writing:
"With Gaylord, he threw his spitter off a fastball sign I gave him. I had to adjust to it! Easier than you would have thought!"
Hiatt is an unsung hero to Giants fans who have rejoiced in the team's post-season appearance. Hiatt retired after a 16-year career discovering and stockpiling talent. How did he measure his annual success in years when San Francisco didn't have perfect seasons?
"As long as we could give the Big Club a choice of three to four players, it was a successful year! We had always had, and have, a lot of pitching with us now, and spread all over the major league due to trades."
Lastly, don't forget that Hiatt knew how to swing the bat. Exhibit A: April 25, 1969, all before the Candlestick faithful. As he tells it:
"On April 25th, 1969, my first AB with Willie Mays on first and two out, I hit a two-run HR to RF. In the 7th, RBI single and in the 13th, a grand slam walk-off to right center!"
Thanks, http://www.retrosheet.org/, for the coverage!