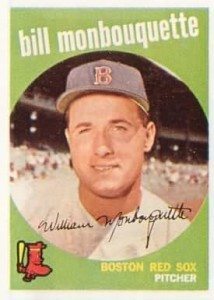 Same Great Sig, Same Humor!
Beloved Boston Red Sox pitcher Bill Monbouquette has faced challenges bigger than any hitter of late. Diagnosed with leukemia, he underwent a bone marrow transplant. He's endured, maintaining a healthy sense of humor.
I looked at his career stats, namely his 78 complete games and 18 shutouts. I noted he was an "inning eater." How did he carry such a workload? Before answering, Monbouquette agreed with me. I felt like Agatha Christie, getting the butler to say that he did it.
"Yes, I was an inning eater.

"I threw every day. Wanted that stiffness out of my body."
He learned about pitching through one of the world's greatest hitters: Ted Williams.
"Loved talking to Ted about baseball. 'Pitch ahead. Make the hitter hit your pitch.'"
How popular was the hurler? Check out the song he inspired!