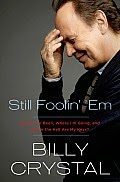 Billy Crystal can't fool me.
His new Still Foolin' 'Em: Where I've Been, Where I'm going, and Where the Hell Are My Keys? book purports to be about turning 65. Sure, he covers the bases on aging issues.
However, I think he might have wanted to call the book Baseball and Other Stuff. His words sparkle when discussing his favorite sport.
He writes adoringly but honestly. Crystal encountered Mickey Mantle at his best…and alcoholic worst.
Joe DiMaggio dissed Crystal's wife when she tried to get a vintage jersey signed by the crankiest Yank. Joe D brushed her aside, saying that he had an exclusive signing deal with a card company. (We've heard that one before, right?)
At least, the Hall of Famer never punched YOU in the stomach. Crystal relives both moments in fan-friendly fashion.
I love the chapters about the movie *61, and Crystal's one-day career as a New York Yankee. Somehow, he fudges on only one detail about his single at-bat in a spring training game against the Pirates.
"My wife made fun baseball cards of me as a present…" he recaps, telling of the gifts he left for each teammate.
These were no homemade knock-offs. Topps produced the 1952-style cards of Billy. A year later, he'd autograph a few for inserts, found in just one of an estimated 60,000 packs. (Did his Yankee brothers get the facsimile autograph version?)
Of course, there's choice material about Crystal's acting, too. He ties in Hollywood lore with his baseball passion. How could he have agreed to wear a Mets cap instead of a beloved Yankees topper in City Slickers? There was a $40,000 licensing issue! Again, in baseball terms, Crystal does both play-by-play and color commentary in his career recounting.
G-rated readers, take note: Crystal seems to launch at least one F-bomb per chapter. Aside from the frequent off-color color, readers can soak up chapters of gleeful gratitude from this senior funnyman.
The book can be summed up in Crystal's recounting of a phone call from Ted Williams. Teddy Ballgame praised Crystal's Oscar hosting in baseball terms.
"Ted, is everything hitting to you?"
"You bet," he said. "It's a great metaphor, isn't it?"
Crystal's book is a great metaphor for fans, collectors and viewers. He enjoys every day and every game. I enjoyed every word.