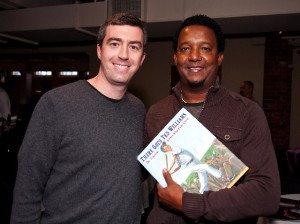 Matt Tavares (left) and Pedro Martinez, both signing autographs
at a Jimmy Fund fundraiser (Photo courtesy www.MattTavares.com)
Matt Tavares is bringing baseball history to a new generation.
The talented author-illustrator's latest creation is There Goes Ted Williams: The Greatest Hitter Who Ever Lived (Candlewick Press). I'm thankful to Matt, who agreed to share his own history as a fan and occasional collector.
Q: I love your book Zachary's Ball. How were the Red Sox autographs collected in the book for the First Book fundraiser? Had you ever tried collecting autographs, in person or TTM, before?
A: During the 2004 season, Trot Nixon's wife was involved with First Book, a great organization that provides books for children in low income families. I'm not sure if it was her idea or someone else's, but I think she basically just asked Trot to pass the book around the clubhouse and have everybody sign it, so they could auction it off to raise money for First Book. I didn't even know about it until after the book had been signed. Conveniently, the Red Sox went on to win the World Series that year, which made the book even more special. My publisher, Candlewick Press, is also involved with First Book, so they helped out with the auction. It sold for about $2000!
Yes, when I was a kid I was a huge baseball card collector. I always brought a baseball and/or baseball cards to Fenway when I went to Red Sox games, and got some autographs that way. I remember getting autographs from Mike Greenwell (my favorite Red Sox played back then), Jody Reed, Sam Horn, Jeff Reardon… I occasionally sent cards to players in the mail asking for signatures. I remember getting one back from Dave Parker, which was pretty exciting. My favorite autographed item is a baseball signed by the entire 1957 Red Sox team, including Ted Williams. My dad got that when he was in high school, and passed it on to me. I also have two signed Arthur Griffin photographs of Ted Williams, which are amazing.
Q: As an illustrator (but someone who might be asked to sign hundreds of in-person autographs at a bookstore or school visit) what were your thoughts of the legibility of Red Sox autographs?
A: It is nice when you can actually read the player's name. Ted Williams had such a beautiful, classic signature (just like his swing!), as did Mickey Mantle. Pedro Martinez has a nice autograph too. I definitely have some autographs that I can't even tell who it is. When I sign books I try to keep my name legible, but sometimes it gets a little scribbly. Every now and then I'm asked to sign a baseball, and that's definitely harder than signing a piece of paper or a book!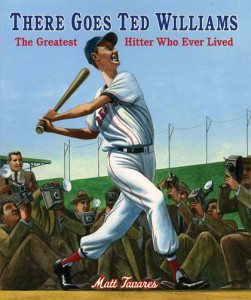 Q: You mention your Dad in your Author's Note for the great book, There Goes Ted Williams. What's your fan history, including Boston games you attended (with him, and later)?
A: I grew up in Winchester MA, a suburb of Boston. My dad took me to a few Red Sox games a year when I was a kid. And of course, I watched tons of games on tv. I always brought my glove, and always wanted to catch a foul ball. In 1990, when I was a sophomore in high school, the Red Sox just needed to win one game in their final series against the White Sox to clinch the division, so my dad bought tickets to all three games, figuring we'd keep going until they clinched. They lost the first game, lost the second game, and finally won it in the final game of the season. That was the game Tom Brunansky made that amazing diving catch near Pesky's pole to end it. I was sitting in right field in section 7, row 11 (I thought that was good luck). That was one fun and exhausting week! I've been to some other big games… the 1999 Red Sox-Yankees ALCS game 3, Clemens vs. Pedro, as well as games 4 and 5 in the ALDS against the Indians that year. Lots of great Fenway memories over the years…
These days, living in southern Maine, I go to more Portland Sea Dogs games than Red Sox games. Portland is the AA affiliate of the Red Sox, so it's fun to follow the Sea Dogs, then when the players get called up to the majors I already know them.
Q: I know that Cal Ripken Jr. and the late Gary Carter have championed children's books, encouraging more kids to read. Are there past or present baseball names who've communicated with you?:
A: My baseball books have been used by The Massachusetts Teachers Association a few times for their Red Sox Reading program. Through that, I've gotten to meet Trot Nixon, Derek Lowe, and Jason Varitek, who were all involved with the program over the years. Recently I signed books at a Jimmy Fund fundraiser where Pedro Martinez was signing, so I got to meet him. I was so excited, I felt like a little kid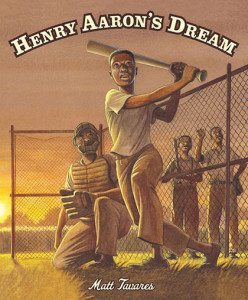 Q: For either your Henry Aaron or Ted Williams books, did you correspond with any baseball names (teammates, foes, media, etc.) for your research?
A: Most of my research for those books came from reading other books and old newspapers. For the most part, I wasn't digging up new information about Henry Aaron and Ted Williams. I was just presenting the information in a new way, in a picture book for kids. My publisher did contact Henry Aaron early in the project to get his blessing. And we did get a letter from someone in the Braves organization saying that Mr. Aaron read the book and really enjoyed it, along with a copy of
Henry Aaron's Dream
signed by Henry Aaron. It's definitely one of my prized possessions.
Q: Future baseball books?
A: Right now I'm working on a picture book biography of Babe Ruth's early years, tentatively titled Becoming Babe Ruth, due out in Spring 2013, published by Candlewick Press.
—
I'm grateful to Matt for postponing deadlines to share his own baseball biography. If you want to share the love of the game with young people, start with his books. Like him on Facebook to be eligible for monthly prizes. He gives away an autographed book. For the Aaron book, he added an original sketch of the slugger with his autograph. See it, and learn more at www.matttavares.com
Coming Monday: How to help a former player in need.