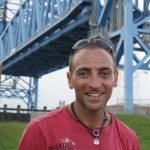 I'm a Phil Bildner fan. The attorney-turned-teacher-turned-author is today's Matt Christopher, and then some!



Bildner is a literary time traveler. His Sluggers book series, about turn-of-the-century barnstormers, is like chocolate-coated vegetables. It's so much fun that young readers will never know that they're being introduced to baseball lore. As an historian, Bildner makes the past matter a current topic for young fans.
Via his all-star website,
http://www.philbildner.com/
, the author took time to answer some questions.
Q: You've written about many famous baseball names. Have you ever collected autographs, in person or by mail?
A: As a kid, I used to ask for players' autographs all the time. I was (and still am) a huge New York Mets fan growing up. I remember getting Bud Harrelson's autograph when I started little league. I don't think I ever sent a letter seeking an autograph.
These days, I don't collect autographs, but I do have a signed Hank Aaron baseball, which is pretty special. I also have a signed copy of Marvin Miller's book.
Q: Have you interacted with current or former players while writing your books?
A. While writing Shoeless Joe & Black Betsy, I reached out to Bob Feller, and I actually got a voice-mail response from him. He wanted no part of writing a blurb for the book! I also met Tommy Lasorda at a Shoeless Joe Jackson statue dedication ceremony in Greenville, South Carolina. I know both Bobby Thomson and Ralph Branca were given copies of The Shot Heard 'Round the World.
Q:.Your great new book is about Ted Williams, Joe DiMaggio, and their great 1941 season. If you could reach Teddy Ballgame in baseball heaven by mail, what would you ask him?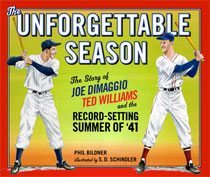 A: I would love the opportunity to ask Ted Williams about the home run in his last at bat. I'd also like to ask him about his return to Fenway for the All-Star Game before he passed.
Q: What's in your baseball writing future?
A: I'm working on a couple of new baseball history titles, but like baseball players, we baseball authors are a superstitious bunch. Don't want to jinx them! I also penned a chapter book series with Loren Long called Sluggers. It's about a barnstorming band of baseball players touring the country in 1899. Each book is set in a different city with many winks and nods to the baseball mystique of those settings.
Coming Thursday: Does Pat Neshek pitch for Santa Claus?