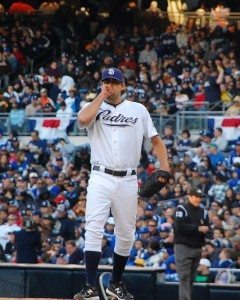 One of many great photos at
Pat Neshek's AMAZING website!
Clark Kent is really Superman, right?
Well, I think Pat Neshek may be Santa Claus.
In case you're the last fan or collector to hear of this pitcher of old-school gratitude, go to the Pat Neshek website. Go on. I'll wait.
Welcome back. This player-collector loves cards and autographs as much as we do. His fan mail proves it. Someone who'll trade his own autographed cards (of himself) for your duplicates? Want an autographed photo. "Feel free to download" he writes, offering online albums for collectors to choose from.
He takes pride in his autograph. Even in a difficult season with the 2011 Padres, he still tried to take time to blog.
Hope this free-agent signs with your team. He's like a United Nations ambassador us fans can send to a team, in hopes of him convincing other players than fans and collectors deserve respect, too.
Pat Neshek deserves our thanks. Seek out his Facebook page. He may not be Santa, but he's one of the best-throwing elves I've ever seen.
Coming Friday: Thanking the U.S. Postal Service.