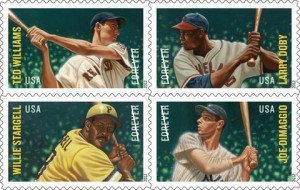 I love the work of artist Kadir Nelson. Check out
his Negro Leagues Art Exhibit as it travels America.

(image copyright, courtesy of USPS)
Collectors are getting heard.
The U.S. Postal Service chose to issue limited numbers of sheets of ONE each of the four new commemorative stamps of Ted Williams, Joe DiMaggio, Larry Doby and Willie Stargell.
The only problem? Only post offices in Cooperstown and the team cities got the special sheets.
Therefore, only some Yankee fans can delight in having no one but The Yankee Clipper on their envelopes. Why not let ALL collectors have the one stamp they want most?
I'm bored with Liberty Bell FOREVER stamps. I feel baseball stamps get your envelope noticed when you're writing for an autograph. Most of all, using the commemoratives tells the USPS to keep autograph collectors in mind for future issues. Agree?
Coming Friday: Talking autographed baseball books with expert Bobby Plapinger!