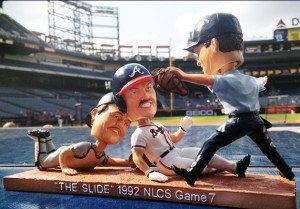 Only 20,000 were given away in Atlanta to honor
Sid's historic score.
When in doubt, ask.
Sid Bream has invoked a $1 per autograph policy this year. I wanted to find out how he felt about the hobby, in light of such changes. Additional I wanted to ask a couple of other questions to someone on his 20-year "anniversary."
Q: Are the fees going to certain charities? If so, I think lots more collectors will be eager to help even more.
A: The Outdoor Dream Foundation and Liberty University Baseball.
Q: Some collectors may have worried that the $1 charge was due to you getting tired of fan mail, signing and collectors?
A: No, that is not true. I wish I would have thought of this years ago and would have been able to raise a lot of funds for different charities.
Q: Congratulations on being a bobblehead and your 20-year anniversary of sending the Braves to the World Series. When was the first time you heard those immortal words: WHEN SID SLID?
A: 'Sid Slid' was given right after the event took place.
Q: You've pursued excellence all your life. Did being a Christian help you be a better player, or did being a player help you be a better Christian?
A: I think both. Being a christian certainly gave me the peace to understand the significance of me being on this earth, but the struggles and victories of baseball gave me the chance to use the faith to trust Him more.
Coming Wednesday: What every fan letter and autograph request should include!