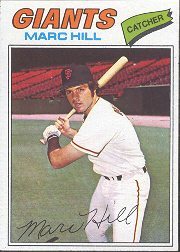 Same 'graph today!
What makes Willie McCovey a real Hall of Famer?
Forget the stats. Beyond home runs, he left a lasting impression on the game. Just ask his teammates.
When I wrote to Marc Hill, I remembered McCovey devising a nickname for the newcomer.
Essentially, "Big Mac" surveyed the young catcher. He stated that he had heard of Boot Hill, Bunker Hill, but not Marc Hill. The veteran first sacker combined the best of both worlds. Thus, the legend of Marc "Booter" Hill was born.
I hoped Hill might have more insight about his legendary teammate. "Booter" didn't disappoint.
"Willie McCovey: Great leader. Gentle Giant.

Someone to look up to. Help me take one game at a time.

How to forget the day before if it was a bad game.

Treat people with respect."
Tomorrow: Hill recalls three notable homers, along with the mixed blessing of Candlestick Park.