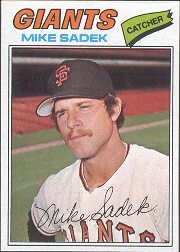 Same Sig, Same SF Pride!
Better than any Halloween candy I received was this sweet treat: a blog comment from P. Goldman regarding the
Sept. 20 Mike Sadek post
. I wanted to share it here, too, with my gratitude:
Mike and I grew up in Park Forest, Illinois. Of course we played baseball all day, at least till the snow came. We probably had the best Pony league team of all time. Mike of course the catcher, his Dad the coach…boy did he know baseball. As an added plus Mike's brother Bob, a great athlete, also coached the team.

We were surrounded by great players but none with skills that made Mike a major leaguer!!!
Too bad that the next year Mike's Dad was transferred back to Minneapolis and we lost our #1 catcher. The only good thing that resulted…I became the #1 catcher!!! Mike and I reconnected in 1977 at Wrigley Field, what a treat after 10 yrs. no Internet then we got caught up. So glad for him that the Giants won the World Series…to everyone who has ever played the game…its the best…our pastime or whatever you want to call it…we love it!!!
Thanks to everyone who shares my vision, for baseball and this blog. I don't believe baseball is just a game by the numbers. It's a game by the letters. By the stories. By the people. For all the Mike Sadeks, for all the fans and friends, this is Hot Stove League season. I'm seeking your stories. Stay tuned!