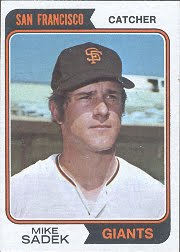 Mike Sadek's autograph collecting exploits made more headlines than his hitting.
Instead of seeking a teammate or rival on a baseball, Sadek looked for a holier hero to sign an autograph. En route to Candlestick Park for a 1987 Mass attended by 70,000, Pope John Paul II autographed a baseball for the catcher.
The story is recounted in the worthwhile Tales from the San Francisco Giants Dugout
Sadek's update on the Pope ball included:
"Spur of the moment. Lots of people got on me when it was sold. What they don't know is that the money got my son and me out of some debt and paid for my daughter's honeymoon! (It was just the three of us.)"
I'm not Catholic. I do not know about any Papal teachings on autograph collecting. However, I think any religious leader would be proud that Sadek sacrificed to help his family.
Sadek didn't mention how much his Pope autograph sold for. I just found another "JPII" baseball available on ebay for $20,000.
A cheer for Project 1976 for its Mike Sadek bio.