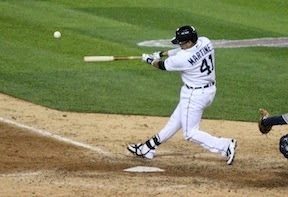 (From the artful eye of Carol Sheldon!)
Co-writing the new edition of the book Belles of the Ballpark with Diana Star Helmer brought us a new friend. My wife and I discovered Carol Sheldon, one of the most knowledgeable fans of the All-American Girls Professional Baseball League in existence.
Well, Carol has many talents. She's been a gifted photographer and avid Tigers fan for years. Lucky for us, she has combined the two passions. Best of all, Carol is making her shots available to fans and collectors.
Q: How many MLB baseball photos do you have in your archive, ones that you've taken? How far back do they date?
A: I take an average of 400 a game and I go to about 30-35 average games a year plus playoffs. Since about 2000 I've used digital and before 2000 I used film back to around the mid 80's.
Q: What percentage of the photos are of THAT team (you know, your Tigers?)?
A: I'd say 85-90 % but if we are playing some with stars then I shoot them too. For example, I got Thome's 599 and 600 HR's
Q: What percentage taken at Comerica? Any from Tiger Stadium? Have you shot at other ballparks?
A: Well, Comerica opened in 2000 so 90% , Film shots at Tiger Stadium especially the last year and last weekend. I've been to about 35 ML stadiums and my camera is always with me so I do have pictures from each stadium mostly of the Tigers and pics of each stadium. (But I'm not that organized. I do have shoe boxes filled with negatives that are organized sort of.) I've also visited about 35 minor league stadiums too.
Q: Readers would be sending these out for autographs by mail, or in person. How many of the depicted guys have seen their photos (and I know that players, current and former, are still thrilled to see new views of themselves)? Have you shared in person or by mail?
A: Over the years I've worked on getting some of my good shots signed at the stadium and in the 80's I sent 3.5×5's in the mail to get signed. I've given players copies of something special. They do like that. Thome signed a copy of #600 for me and I gave him one plus a disk with shots of his family meeting him at home plate.
Q: Last question: can you share even one short tale about a good reaction from a current or former player over your photos?
A: Thome was nice and ask my name so he could personalize it. I got a very nice note back from Doyle Alexander after I sent him a photo.
Q: How can readers get your photos?
A: 5×7 = $ 2.00 8x 10 = $7 11 x 14 = $10 plus shipping. Shipping would be $2.50 to $5.00 for single photos. Additional cost for multiple photos. If you don't see the player you want ask! I also have stars from other teams! I can be reached at

csheldon25@hotmail.com

.