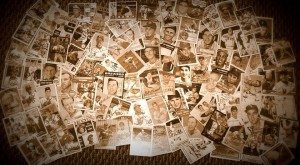 Justin Evans is a hobby hero.
While Matt Williams and Buck Showalter were zoned on post-season berths, Justin was building a team of his own.
The site is a FREE place for autograph fans to gather and share pictures of one signature or a whole collection. Members are sharing opinions on autograph authenticity and other topics.
Justin enforces just two rules:
1. No buying/selling/trading.
2. No profanity. He knows that some members are kids. Discussion of signers and non-signers remains G-rated.
This is the hobby I remember. Only an occasional "what is it worth?" pops up, only to be dealt with by the membership. And the answer remains (from me), "As much or as little as you value the autograph."
Justin amazes me for another reason. He's posted the questionnaires he's received from some of baseball's oldest names. He's gotten great insights from long-retired alums who've shared tales of their service in the military and on the diamond. A kindred spirit of "Baseball By The Letters."
Check out one of the brightest spots in the Facebook universe. Whether you choose to join or not, let Justin know that you appreciate his efforts to share all the things good still remaining in the world of baseball autographs.