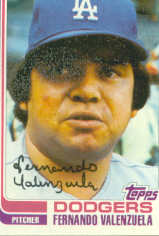 "No! Not My Face!!!"
"'Nando! 'Nando!"
BONK!
E-1
Wait. Here's the whole story.
My wife is on the field at Dodger Stadium shooting photos in 1988. She is exclusive witness to baseball history, a "could have been" spin on the 1988 World Series title for Los Angeles.
Fernando Valenzuela emerged from the dugout. He grinned sheepishly as children chorused his name. Slowly, he turned, whipping the young fans into a frenzy. Slowly, he took a program to autograph.
Suddenly, someone shouted. Valenzuela tried to identify the voice as he stared into the sun.
All he saw was an underhanded baseball hitting him in the face.
Coach Joe Amalfitano witnessed the mishap. He started shouting and scolding. The embarrassed pitcher held the offending baseball. The throng sucked in its collective breath. All Valenzuela did was smile, sign the ball and roll it back across the dugout roof.
No disabled list time. No pitcher who swore off autographs. But a lesson.
Some players, current and former, are looking for a scapegoat. One excuse to stop signing for everyone. Like Dirty Harry hissing, "C'mon, punk. Give me a reason!"
Will you be the one who changes hobby history?
Thanks to one Diana Helmer, for sharing this classic tale. Someone who likes baseball, the hobby and ME? I feel like a World Series winner, too!