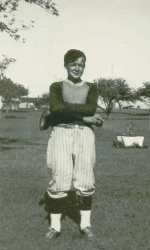 Bobby Hoeft,
circa 1942
Bobby Hoeft deserves a statue in front of Comerica Park, too. As you've read from yesterday's feature about his book and Detroit Tigers Quarterly newsletter (see his fun website to review, buy and subscribe!), he's never stopped supporting HIS team. Here are more jewels from Hoeft's baseball life:
Q: Who scouted you? Who signed you?
A: "At the ALL-AMERICAN GAME played at the Polo, Grounds in NYC on August 13, 1947, there were scouts from every MLB team in attendance among the crowd of 35,000. During the week preceding the game we practiced every day at Yankee Stadium where I talked to many scouts who were in attendance, however only one team interested me…..THE DETROIT TIGERS. Upon arrival home after the HEARST ALL AMERICAN GAME, many scouts paraded in and out of our East Side home, but on October 2, 1947, with MOM & DAD looking on I signed with WISH EGAN, head scout for the Detroit Tigers. Actually because I was under-aged, my DAD had to co-sign. Egan was a wonderful man and he made the signing a relaxed and comfortable experience. So, now the first step of my dream was secure and I was in the TIGER'S organization!"
Hoeft's minor league career allowed him to co-star with baseball characters straight out of the Bull Durham movie.
Q: Who was your most notable manager in your baseball career?
A: "An easy question because he was my very first manager. In the Spring of 1948 the Tigers optioned me to the Mahonoy City Brewers right in the middle of Pennsylvania where I was introduced to the one and only baseball guru: Clarence 'Buck' Etchison! Buck's claim to fame happened in 1944 with the old BOSTON BRAVES, when he clobbered 8 Taters! He was all old school baseball. WOW! For many of his exploits you'll find them in my book: "WHEN BASEBALL WAS FUN"
For now I'll tell you my own personal experience with this skinny farmer from Endicott, Md., who used to spit his Red Man chewing tobacco all over the umpires, who hated the man! Well, anyway on a hot July Sunday game at home, I managed to get picked off second, in a close game. As I crawled off of the field there stood BUCK waiting for me on the top step. I was ready for the undertaker! My first words were, "I thought…" Those two words were all I got out as he bellowed the following sentence at me, "DON'T EVER THINK AGAIN "HUFFY" (his nickname for me) OR YOU'LL RUIN MY BASEBALL TEAM." !! Words I'll take to my grave."
Coming Thursday: U.S. Navy, 1953…Bobby Hoeft encounters a future Hall of Famer.