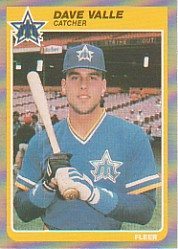 In 1985, Fleer Update
had the same high hopes
for Valle that
Vivan Barning did!
Psst…don't tell Frank Barning I'm telling you this.
I'm still fans of Frank and Vivian Barning. I was when they published Baseball Hobby News (1979-93) and I am now. I'm a regular reader of Frank's "Barnstorming" blog. Vivian guest-blogs there.
Here's the disclaimer: the Barnings write about whatever they choose, not just baseball. I'm not calling their updates baseball or hobby blogging. Their diverse topics include their home in Las Vegas, slot machines, their travels…you name it. They're always fun to read, no matter what the subject. Good writing is good writing. Days that include baseball themes feel like finding an extra prize in my cereal box. (Yes, it happened. I was a lucky kid!)
However, when I spotted Vivian's great memories about a young Dave Valle, I had to share it.
You want a former player to give you something when you write. What are you giving them (besides a possible paper cut)? Even if the retiree has heard the story before, he's never heard it from YOU. Your sincerity and motivation in asking for a signature or an answered question comes through in the way you tell YOUR story.
Sure, you may not have encountered young Dave Valles like the Barnings did. That doesn't stop you from expressing yourself in a letter. I received a great note back from the late Dick Williams, telling him how I loved sitting on the couch, watching my Dad watch Game 3 of the 1972 World Series. I told how I loved seeing my Dad predict the fake intentional walk to Johnny Bench. Most of all, I wished that Williams (and I) could see video of my Dad falling off the couch, collapsing in a laughing fit.
By the way, I have a Valle memory, too. During his Seattle playing career, I 'graphed outside the Kingdome following a night game versus the Orioles. Valle lectured a group of elementary school boys when they didn't tell him where their parents were. He told them they were too young to be out alone so late. He didn't sign!
I hope those boys turned out okay. I hope they write Valle to see if he'll sign NOW. Sharing the story wouldn't hurt.
Coming Wednesday: My '10 Most Wanted' – the Dodgers edition.