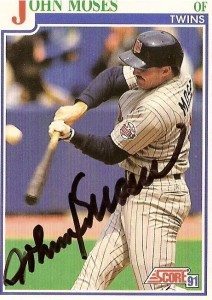 To get a memory, you need to give a memory.
In 2002, I sent a recollection to outfielder John Moses. Not an autograph request. Just a letter of thanks.
He rewarded me with an autographed card — and much more.
I attended several games in Seattle's Kingdome in 1992. The former Twin had joined the Mariners. Or had he?
The first time I read his name on the scoreboard, I paused. JOHNNY Moses?
Was this his idea? Did the M's think a new start needed a new name? I suspected that someone might have thought a younger first name might add some speed or vigor to a veteran's comeback.
I didn't want to accuse Moses or the team of some sneaky plot. After all, I noted that my Aunt Bernice refused to call me "Tom." Although I endured being called "Tommy," I still felt like a Tommy at age 41.
Moses wrote back!
"Tom —

Don't worry. My Mom called me 'Johnny' for 47 years now. And it has never bothered me. I was always known as 'Johnny Mo' around the baseball field.

Remember the great names:

Johnny Bench
Tommy Davis
Johnny Pesky
Tommy Helms

also

JOHNNY Moses

Take care.

Sincerely,
Johnny Moses"
As proof of his dual identity, he signed his 1991 Score "John" card "Johnny Moses."