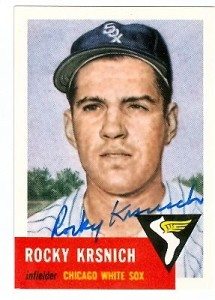 Rocky (born "Rocco") Krsnich enjoyed brief stays with the Chicago White Sox in 1949, 1952 and 1953. He couldn't nail down the third base job, despite showing some power at the plate.
His first career dinger came off Ralph Buxton at Yankee Stadium. A second four-bagger came courtesy of Harry Byrd. Krsnich's last shot was against Eddie Lopat. Would Krsnich nominate one for an evening newscast, a sight he'd enjoy replaying?
"None 'prettiest' come to mind," he wrote.
The Krsnich career highlight reel would have to include July 18, 1953. His ChiSox claimed a 10-6 win over the Senators, thanks to Rocky's four RBI.
What does he remember most about his best-ever day at the plate? Krsnich wrote:
"My son Jim born that day!!! Also met Nat King Cole that day!"
Four RBI and the game-winning hit just a footnote? There aren't enough statistics available to rank Rocky's greatest day.