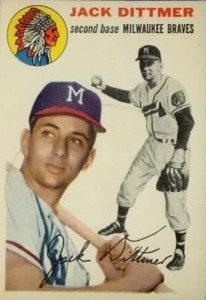 Another impressive career has ended.
Jack Dittmer didn't have Hall of Fame stats. He was a hobby hall of famer, however.
In October, Dittmer's wife began sending out the sad news. I saw the update via the ever-insightful www.sportscollectors.net.
The second baseman now lives in a care facility. He can no longer sign autographs or answer questions.
Dittmer was at his best for my 2011 letter. See for yourself via the above link.
On SCN, his success rate was staggering: 175 success responses in 178 attempts.
Just a thought…
A note of thanks to Mrs. Dittmer might bring a bit of brightness during the holidays, considering her husband's health. I'm sure she may have been an unsung hero in getting all those autographs returned.